Back to Doc Goes Hollywood CD Page
Artist's Notes:
JOHN LEE SANDERS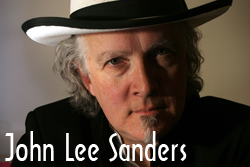 [We asked John Lee Sanders to give Strokeland fans some background on his career and his musical influences, and to give us his thoughts about each song on Doc Goes Hollywood. We're excited to bring you this in-depth background in John's own words. -- Ed.]
My mother had one of the best ears for music of anyone I know, and even though she never learned to read music, she memorized the alto parts of Handel's Messiah after I would play her the parts three or four times. My brothers and I were huge R&B fans, but my parents took us to many of the touring Broadway shows and we were exposed to many of the standards of the great American songwriters.
I am a big fan of vocal groups and have sung harmony with my two older brothers since I could talk. For some reason, in Northern Alabama where I grew up, a capella vocal groups were a big part of the musical landscape, such as The 5 Blind Boys of Alabama, Take 6, the Commodores, and the Temptations – and more recently, three "American Idols".
After a few years of going from "Wilson Pickett" screams on Saturday Night to "Vienna Choir Boy" on Sunday Morning (not to mention the onset of puberty), my voice was going through a major identity crisis. The radio stations billed me as "Birmingham's Answer to Little Stevie Wonder", but on Sunday morning at church in Alabama, I switched to my "white" church voice.
I began vocal lessons at age 14 with Dr. Vernon Skoog, a PhD. in Music who was my choir director and Director of Music Education for the city of Birmingham. I was already singing R&B and pop music around town and he helped me with phrasing and tone placement, but was based more in the classical world.
The choir director of my high school in Birmingham recognized my ear for arranging and had me arrange "Good Vibrations" for the choir at one of the concerts. I've studied the qualities of all of the great singers, R&B, Jazz, Pop and Gospel, and have taken something from many of them. At the top of my list would be Sam Cooke, Sinatra, Marvin Gaye, BB King, Ray Charles, Nat King Cole, Donnie Hathaway, and Stevie Wonder. Marvin Gaye did a tribute LP to Nat King Cole in the 60s with an orchestra, and I was greatly impressed by what a great singer like Marvin could do with Standards and a great orchestra, so vocally, his perfection was the role model I was going for on this CD.
I always loved bands with horn sections, and I finally learned the saxophone at age 17. My father bought me a brand new Conn tenor sax, and the catch was, I had to join the marching band. I really wanted to be in the school big band, but was required to march out on the field at halftime shows. Bands like Chicago and Blood Sweat and Tears were big at the time, and I learned arranging by transcribing out the parts for local bands around Monroe Louisiana where I lived at the time.
There were some great funk horn bands around Louisiana at the time -- most memorably, The Boogie Kings, with Jon Smith on tenor sax, who had the sound I wanted to emulate on sax.
I started getting arranging jobs for pit orchestras around Louisiana for various large theatrical productions. A good friend of mine had the female lead in West Side Story in Monroe, and she let me sit in on most of the rehearsals to learn how Leonard Bernstein orchestrated that amazing score. It's still one of my favorite musicals to this day.
I heard "East Bay Funk" for the first time in Louisiana at a matinee showing of "Last Days at the Fillmore" with Lydia Pense and Cold Blood, and I went out and got the LP. My first experience hearing Tower of Power was at North Texas State back in the early 70s. Living around Dallas where horn bands were king, I was in a band there called Buster Brown that got to open for Tower around the time "What Is Hip" came out. Needless to say, I was blown away, for that was the tightest and funkiest sound I had ever heard.
I moved to the Bay Area in 1977, lived all over and finally gravitated to the East Bay. Jeff Tamelier and I were in Starship together with Mickey Thomas, and hooked me back up with Doc and most of the East Bay Funk, R&B scene, where we had a band called "Funk Biscuit" with David Garibaldi on drums and Bobby Vega on bass.
While living in Oakland, I answered an ad for Hammond Organist at Beebe Memorial Cathedral, one of the largest black churches in town. After hearing my southern Gospel roots, I got the gig, and stayed on for three years. Many of the original church families had been part of the great migration of African Americans who left the deep south in the 30s, 40s and 50s, and in this particular church, most were from around my hometown of Monroe, Louisiana. Their music took me back home, and I learned more about the spiritual side of my musical heritage and history than at any point in my life.
Around 1981, someone loaned me a Frank Sinatra anthology double disc, and from then on, I studied his phrasing, the orchestrations, and the great standards of American Music.
During the 80s and 90s in the Bay Area I did tons of commercials and demos for songwriters covering every style of music, which helped me get in touch with my voice more than anything. Doing song demos taught me how to sell the lyric and to articulate the words better than my southern bluesy inflections had allowed previously. I never had a very high range, but wanted to expand it. I studied for a year with a great teacher in Berkeley in '95 named Cary Sheldon, who taught me the speech-level singing technique of Seth Riggs, which increased my upper range by almost an octave. Seth Riggs is the vocal coach to the biggest vocal stars in Pop music, and teaches a way of blending the chest voice and the falsetto.
I did a few of the lead vocal demos of various songs that became part of the Strokeland catalogue and that's how this all came about. Doc asked me to do the lead vocal on the title track to "Kick it Up a Step" and also a killer ballad on that CD called "Bittersweet with a Ray of Hope", which was radically different than the Tower of Power funk stuff. It was more in the style of Burt Bacharach, Gene Pitney. I saw a different side of his composing that is up there with the greats.
I've worked with Paul Williams since 1988, and have met many of the greatest American songwriters through my work with him. Doc and I met up backstage after a Paul Williams concert in Las Vegas where I was part of the band, and he presented me with the concept for Doc Goes Hollywood and asked if I wanted to do the Lead Vocals. These were songs he had written over the last 20 years, some in the "Great American Songbook style".
This was 2006, when I moved to Vancouver BC and got married to my girlfriend of 9 years, Judy. I was going through the Canadian Immigration process, and was not allowed to work, or leave Canada, even though the US border was within walking distance from my house. I built a home studio in a detached workshop on the property.
Vocal Production Notes
This Story Must Be Told
This one starts with the background vocals. Doc and I talked about bringing in background vocalists, and I suggested overdubbing them myself as a reference. Doc was pleased with the sound of them, so we decided to keep them. Curtis Mayfield and the Impressions inspire the vocal sound, plus many of the doo-wop groups of the 50s.
A Toast for Huey
I love the positive message in this song -- about service to others and giving back, no matter how much or little we have. While recording "Kick it Up a Step" I became friends with Huey Lewis, and we have become mutual fans of each other's music. We started out playing the same club circuit in the Bay Area, and I am happy for his success and his support of my music over the years. The background vocals are arranged in a close harmony style inspired by groups like "Take 6" and the vocal sound of Huey Lewis and the News.
Yvonne
I love the way this one keeps modulating, giving a continual lift. I listened to much of Quincy Jones' production and how he uses the background vocal textures in the mix.
I Made this Movie Before
This song works wonderfully with the cinematic metaphors in this lyric from Doc, and the brilliant Orchestrations from Bill Ross, who was Music Director of the 2007 Academy Awards. I am a huge fan of his film work, having scored a few films and documentaries myself, but this is my first time singing with a real orchestra. My grandmother Jessie, from Memphis TN, played piano and organ in the silent movies. Many times there was no score, and she would improvise in real time while watching the picture, which is how scores even today are sometimes created for the original ideas. I guess somehow the genes got passed on. Once again, the background vocals here are greatly influenced by Quincy Jones production and arranging styles on Michael Jackson's "Off The Wall" LP.
What Difference Does it Make
The lead and background vocals answer each other back and forth, with three distinct parts in the harmonies. My inspiration for this is Marvin Gaye's production on the "I Want You" LP -- especially the track, "After the Dance". I didn't listen to any of his tracks during the recording, they are just part of my music education of osmosis. If something works musically, I make a mental note of it, and it becomes part of the wealth of musical inspiration we work from.
I Love You and God Bless
Listening back to these tracks and trying to sort through all of the influences that created a sound that became part of us, I would say this one owes a lot to the "Philly Sound" -- The O'jays, Spinners, and Harold Melvin the Blue Notes.
So Now I Have to Drink Alone
I try to imagine Frank Sinatra at Capitol, surrounded by the orchestra, doing this in one take. It took me a few takes to get the melancholy vibe. I love Bill Ross's interplay of the woodwinds with the vocal.
That One Special Someone
There are ten background parts on this one. Doc had me listen to "Second Star to the Right" from the Disney Peter Pan Soundtrack. I had learned to write this close style of harmony for sax sections in big bands in college, and transferred it to vocals. I actually wrote out the parts, rather than winging it. With unlimited studio time, it's fun to experiment with the harmonic possibilities. What a romantic feeling in this -- it takes me back to another time when the world, music, and movies were more innocent.
It's a Long Uphill Climb
Lyrically, I connected with this one on a personal level, having had fifteen wonderful years of sobriety. "The Big Guy" has been on my side through all of it. It reminds me of "You'll Never Walk Alone" from Carousel.
Old Friends, Dear Friends
I learned to harmonize three parts with my two older brothers. Before there was a television in our house, there was an upright piano, and it was our entertainment. There was a Methodist Church hymnal with the songs voiced in four parts, which were the foundations of basic music theory that go back to JS Bach, which I had memorized from childhood. I remember a jukebox in the clubhouse at a summer camp where I pumped in a week's allowance to learn Brian Wilson's harmonies on the Beach Boys 45s. Brian was a genius and greatly influenced the backgrounds on this song.
A Very Special Night
A very intimate and personal delivery on the vocal. The first verse is sung in chest and falsetto tones, real close to the mic. The vocals are voiced higher than the lead, and remind me of some of the tonal quality of some of the Bee Gees recordings, with the airy, breathy, close-mic quality that glosses the whole thing over.
They Don't Make 'em Like You Anymore
This is one of my favorite tracks on the cd. The background vocals go from just a two-part harmony to a full five-part harmony, voiced from a low bass part to soprano, with each of the four parts doubled for a thicker sound. Sometimes when an artist does all of the harmonies himself, it sounds all too similar, but I try to change the timbre of the backgrounds to set it apart from the lead.
To sum up this project, it exceeded my expectations. I had to change the keys a few times, because when I was searching for the keys, it was late at night at home and I was singing a little more laid-back than on a gig. After hearing the dynamics of the orchestra overdubs, I decided to belt a little more on a few lines here and there to match the intensity. I learned so much on this CD, working with Bill Ross and Doc Kupka -- they are both masters. During the production, Bill was juggling this project with the 2007 Academy Awards, Josh Groban's "Noel", Barbara Streisand's European Tour, and Andrea Bocelli's CD, and I feel blessed to be in the company of these guys. Thanks for letting me be a part of it.
John Lee Sanders
Back to Doc Goes Hollywood CD Page