Back to Doc Goes Hollywood CD Page
Producer's Notes:
STEPHEN 'DOC' KUPKA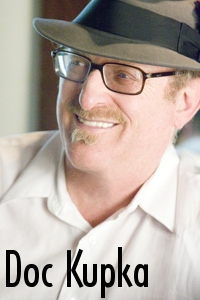 DOC GOES HOLLYWOOD has been a dream of mine for many years. Even before I got into Rhythm & Blues, I was a big fan of the "Great American Songbook" and Broadway show tunes. My dream of doing this type of project took a giant step forward upon meeting Bill Ross. We met at a school function where both our children attended. He found out that I was in TOP, and I found out that he wrote the score to "My Dog Skip" and orchestrated both "Contact" and "Forrest Gump" -- all just gorgeous work. Shortly thereafter, we embarked on this project in earnest. However, pre-production took two years due to his heavy workload and my busy touring schedule with Tower of Power.
Bill and I co-wrote "I Love You and God Bless" and "A Very Special Night". He added the music to the bridge for "A Toast for Huey" while I wrote "Yvonne" and "Old Friends, Dear Friends" during this pre-production period. Except for touch-ups, all the other songs were from the 70's and 80's and they had lain dormant because at best, they would be a hard sell to get Tower to record them. I truly believe that their time had not come until I had met Bill. In any event, we recorded the basic tracks in June of 2006. We added the strings and horns in March of 2007, finally got it mixed and mastered, and now it's actually come out.
I want to particularly thank Steve Finch for running Strokeland Records and Chuck Hansen for providing finance, without which this project would have taken years longer to see fruition.
Here is the list of inspirations and comments about each song:
THEY DON'T MAKE 'EM LIKE YOU ANYMORE
This was a song title of the late great Frank Biner. The chord progression in the refrain was inspired by the Anita Baker song "SWEET LOVE." This song was written at the same time as "HOW COULD THIS HAPPEN TO ME?", a Tower of Power classic. One of my favorie lyrics in the song "Just like a master craftsman tools his trade" was written by my long time songwriting partner Emilio Castillo. It's rare that I get even a little bit jealous of a lyric I didn't write in one of my songs.
A VERY SPECIAL NIGHT
For years I had wanted to write an anniversary song. Bill Ross wrote the majority of the music while I wrote the lyrics. The B-section ("The good, the bad, the happy and the sad") was inspired musically by Rodgers and Hammerstein's classic "SOME ENCHANTED EVENING" from SOUTH PACIFIC. Incidentally, the first song that ever lit me up when I was a little kid was "A WONDERFUL GUY" from the aforementioned SOUTH PACIFIC.
THIS STORY MUST BE TOLD
This song is a cross musically between "SINCE I FELL FOR YOU" (one of my all time favorite songs) and the bridge to "YOU DON'T KNOW ME" ("I never knew the art of making love" etc). The lyrics on the chorus ("A good heart and soul is worth much more than gold") were my mother's favorite lyrics of any I ever wrote, so consequently this is a very meaningful song for me. Bill's string arrangement on the verses reminds me of "STORMY WEATHER" by Harold Arlen.
I MADE THIS MOVIE BEFORE
The chorus of this song was inspired by "HEAVEN MUST BE MISSING AN ANGEL" by Tavares. I loved that song and this was my attempt to capture some of the feeling, albeit in an entirely different type of subject matter. For any of you younger listeners who don't know who Hedy Lamarr and Don DeFore are, I suggest you look it up on the internet. [Tower of Power is covering "Heaven Must Be Missing an Angel" on their forthcoming CD. - Ed]
YVONNE
This is a tribute to my beautiful bride, Yvonne. This was one of the most difficult songs for me ever to write since I wanted it to be just right. The I - IVm6 change in the B-section came from the "THEME FROM THE RESCUERS" the Disney animated feature, while the beautiful intro written by Bill Ross evokes "GOD BLESS THE CHILD" to me. I'm proud of the modulating scheme of this song.
IT'S A LONG UPHILL CLIMB
This is a cross between Rodgers and Hammerstein's "YOU'LL NEVER WALK ALONE" and "CLIMB EVERY MOUNTAIN", as well as an anti-drunk-driving jingle which I felt obliged to write as payment for a debt to society. (That's all you're gonna get from me on that subject.) The title was inspired by a line from the wonderful Jimmy Webb's song "DIDN'T WE". I told John Lee Sanders to make the background vocals sound like a church choir which I think he did admirably.
A TOAST FOR HUEY
This is a tribute to my great friend and musical compatriot, Huey Lewis. He gave my career a great boost when I needed it most and I will be eternally grateful. There was a dinner for all the cast and crew during one of our tours together where Huey seemed a little down. I took it upon myself to write a toast which turned out to be the lyrics to verse 1. I'm happy to say that it cheered him up. I later added music to the words. When Bill Ross heard it, he wrote music for a bridge, and I then put words to that bridge and added another verse of lyrics and so the song was complete.
SO NOW I HAVE TO DRINK ALONE
This song was directly inspired by the Lieber & Stoller classic "IS THAT ALL THERE IS? and reinforced by the movie version of CABARET. I tried to get a European feel and made it a point to have the first word of the song be "And" just as in Paul Anka's English lyrics for the song "MY WAY".
THAT ONE SPECIAL SOMEONE
This is by far the oldest of the songs on this CD. I wrote it back in 1975. For you Tower of Power fans, it was written at the same time as the Tower classic "AS SURELY AS I STAND HERE". This song was totally inspired by the classic from PETER PAN called "THE SECOND STAR TO THE RIGHT". I told John Lee to download the song and make the bg vocals sound just like that. I think he did a fabulous job. It is my hope that someday young couples will use this as a wedding song.
WHAT DIFFERENCE DOES IT MAKE?
The intro was inspired by the Gogi Grant song "THE WAYWARD WIND" The modulation to the bridge was the same one Jerome Kern did in "SMOKE GETS IN YOUR EYES" and I put a reference to "THE TWELFTH OF NEVER" in the 3rd verse as a tribute to Johnny Mathis - one of my all-time favorite singers. This song is a twin to "BITTERSWEET WITH A RAY OF HOPE" off of the "KICK IT UP A STEP " Strokeland CD, also sung by John Lee Sanders.
OLD FRIENDS - DEAR FRIENDS
Written as a tribute to my oldest friend, John Mills of Nevada City, California, who I have been friends with since we both were 4 years old. This is the last song on this CD to be written, although I have had the concept for years. The bridge gives a nod to one of my favorite childhood songs "FRIENDLY PERSUASION (THEE I LOVE)" written by the famed movie composer Dimitri Tiompkin. For any of you Tower fans, I also referenced Mr. Tiompkin's theme from "THE HIGH AND THE MIGHTY" in the string line for the chorus of the TOP favorite "SO VERY HARD TO GO". I feel this is some of Bill Ross' best arranging work here and I love the modulation scheme.
I LOVE YOU AND GOD BLESS
After 9/11, we heard Irving Berlin's "GOD BLESS AMERICA" a lot and I got the idea to combine "I LOVE YOU" with "GOD BLESS YOU" together in one tune. This is Bill Ross' and my first song together, so it's a sentimental favorite for me. The first lyric of every verse "Thank you so much..." was inspired by a line that Sela Ward said to Dennis Quaid in the movie THE DAY AFTER TOMORROW. It was actually "Thank you so very much", but I had to shorten it to fit the melody that Bill had. We planned it as this was to be the last cut on the CD, so we extended the ride-out like we were riding off into the sunset. Bill does great 4-trombone arranging and he features some of this in this arrangement.
In addition to the influences listed above, I must also mention Burt Bacharach as a lifelong musical inspiration and one of my all-time favorite songwriters.
Stephen 'Doc' Kupka
April 23, 2008
Back to Doc Goes Hollywood CD Page