Back to Doc Goes Hollywood CD Page
Producer's Notes:
WILLIAM ROSS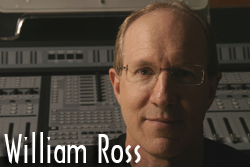 What a treat this project has been for me. As a lifelong Tower of Power fan, I was overwhelmed at the prospect of working with Doc Kupka on this CD. It has been such a musical experience. I've also come to appreciate what incredible heart and soul Doc puts into every song he writes. There is a kind of self-reflection in Doc's writing that draws upon his own life experiences. It seems like every song is born out of the pains and pleasures of his past, the joys of his present, or the hopes he has for the future. The songs on this CD seem to be filled with his passion for love and life.
It doesn't surprise me that the writer of such great lyrics as "What Is Hip" would be so prolific and inventive when he turned that gift with words towards songs like these. While Doc may refer to them as songs in the style of the "American Songbook", each and every one bears the stamp of Doc's unique approach to life… and the music that underscores that life.
I love all of these songs. They're all unique. "A Toast For Huey" seems to overflow with the respect, admiration, and poignancy he obviously has for his friend Huey Lewis. Songs like "I Love You and God Bless", "One Special Someone", "A Very Special Night", "Old Friends, Dear Friends", and "They Don't Make'em Like You" seem filled with Doc's own way of reminding us that Love and Friendship make the world go around.
The first time I heard "Yvonne" I felt like I was intruding on an incredibly private and intimate moment between Doc and Yvonne, Doc's wonderful wife and soul mate. I was touched by the honesty and acceptance in Doc's lyrics and the approach he wanted for the arrangement. It's a special song.
Just as life doesn't always work the way we plan, there are relationships that don't quite work out. Whether they are with other people… or with the disparate parts of ourselves… they are a part of life that we all experience and must learn to deal with. Once again I thought Doc found a unique way to frame those parts of life in "I Made This Movie Before", "What Difference Does It Make", "Now I Have To Drink Alone", and a personal favorite of mine, "Long Uphill Climb".
I could go on and on about how much I enjoyed working with Doc on the songs for this CD. Rather than spend your time reading those words however, I encourage you to listen for yourself and experience firsthand the words direct from Doc's heart… and soul.
William Ross
Los Angeles, California
Back to Doc Goes Hollywood CD Page